As Star Trek: Lower Decks finally premieres in the UK on Amazon Prime Video, A. J. Black takes a look at the first animated Star Trek series in almost half a century…
Ever since the end of The Animated Series in 1974, Star Trek's only previous foray into the sphere of animation, the franchise has toyed with another 'cartoon' version of the series, but has perhaps steered clear by dint of being defined as such. Star Trek: Lower Decks is not easily characterised, simply, as a cartoon.
Lower Decks, created by Mike McMahan, exists thanks to the proliferation over the last twenty-five years or more of adult-centred animated television series. McMahan himself wrote a chunk of Rick & Morty, the good natured, wacky Netflix animated series—Back to the Future on acid, basically—and that itself arrives in the slipstream of the even more renowned series—South Park, Family Guy etc—that took the nominal concept of animation as kids territory, cartoons established decades past with Tom & Jerry through to Wacky Races and The Flintstones, and deliberately tailored them for older audiences. Cinema has proven adults respond just as well, if not even better, to intelligent animation as children do, with the Pixar stable lighting up the box office while cementing themselves in the minds of ages the world over, as have to a lesser degree Japan's Studio Ghibli.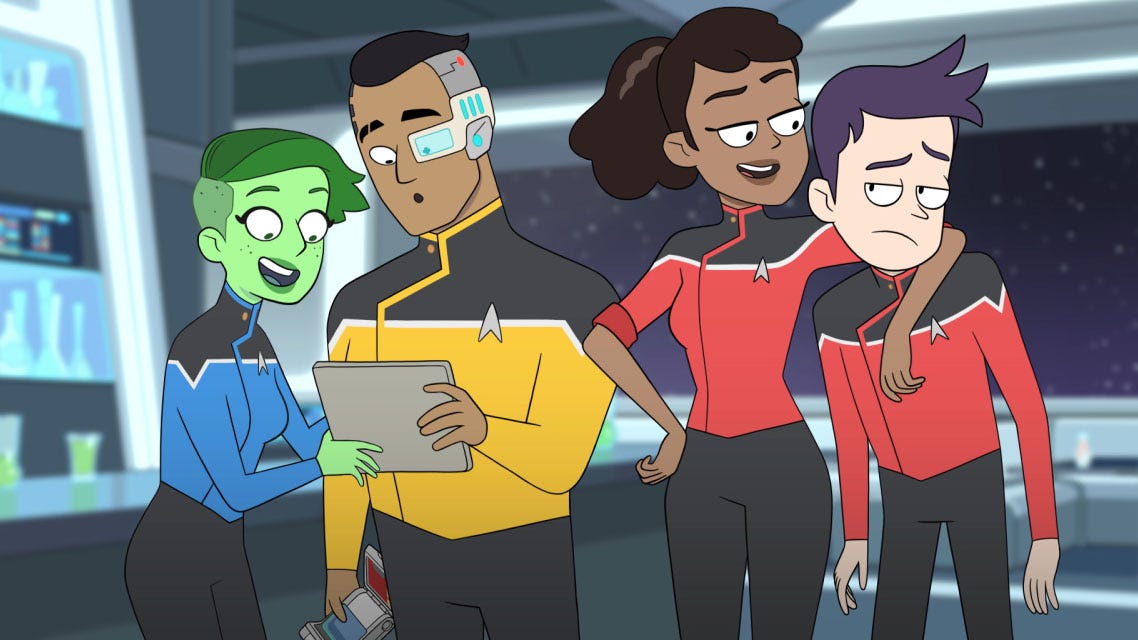 McMahan's series—certainly on the evidence of the pilot episode Second Contact—lacks the whimsy of Ghibli, and certainly the cosiness of Pixar, but rather contains the self-effacing, self-knowing confidence of a Bojack Horseman. Lower Decks seems to understand the position it holds in relation to the broader Star Trek universe and the world of animation itself and, consequently, does not try and reinvent the wheel. It is, in many ways, exactly the kind of show you probably thought it would be, based on McMahan's previous work, based on the promotional material and trailers, and based on what those involved have been talking up for a solid year. The only surprise in Second Contact is how unsurprising it actually is.
This isn't meant as a slight, either. Lower Decks is huge fun. It just isn't, at least yet, anything more.
Continue reading "First Impressions: STAR TREK: LOWER DECKS – 'Second Contact'" →